*10% discount when buying at least 4 x 150 ml
Sent within 1 - 3 business days
From €75 you pay no shipping costs
About the product
What's inside
How to use
Our Sunscreen Oat Lotion with an SPF of 30, is a natural sunscreen for especially sensitive skin, inculding on the face. It contains no titanium, no palm oil, and no micro-plastics. What does it have? Healthy minerals and natural antioxidants, for example. And zinc. With these, you protect the skin from sunburn, help the skin take care of eczema and you are kind to the planet.
Good to know: not for nothing does our Sunscreen Oat Lotion meet the strict guidelines of Natrue. This is the international quality label that stands for natural, planet-friendly ingredients.
Oh, and after sunbathing, our Itch-Free Oat Cream works as a fine, gentle and cooling aftersun.
Aqua, Zinc Oxide, Shea Butter Ethyl Esters, Sesamum Indicum Seed Oil, Triheptanoin, Avena Sativa Kernel Oil, Glycerin, Polyglyceryl-2 Dipolyhydroxystearate, Polyglyceryl-6 Polyhydroxystearate, Polyglyceryl-6 Polyricinoleate, Polyglyceryl-3 Diisostearate, Glyceryl Laurate, Pentylene Glycol, Potassium Sorbate, Magnesium Sulfate, Avena Sativa Kernel Extract, Polyglycerin-6, Tocopherol, Helianthus Annuus Seed Oil, Sorbic Acid, Phytic Acid
Most sunscreens say "apply generously". This isn't necessary with our Sunscreen Oat Lotion. That's because it spreads particularly easily - try it and you'll see what we mean. Water? No problem, because thanks to our water-in-oil base, your Sunscreen Oat Lotion simply stays on the skin.
Out of love for the sun and your skin, we add: sun wisely. Seek out the sun all year round, but sit in the shade when the sun is high.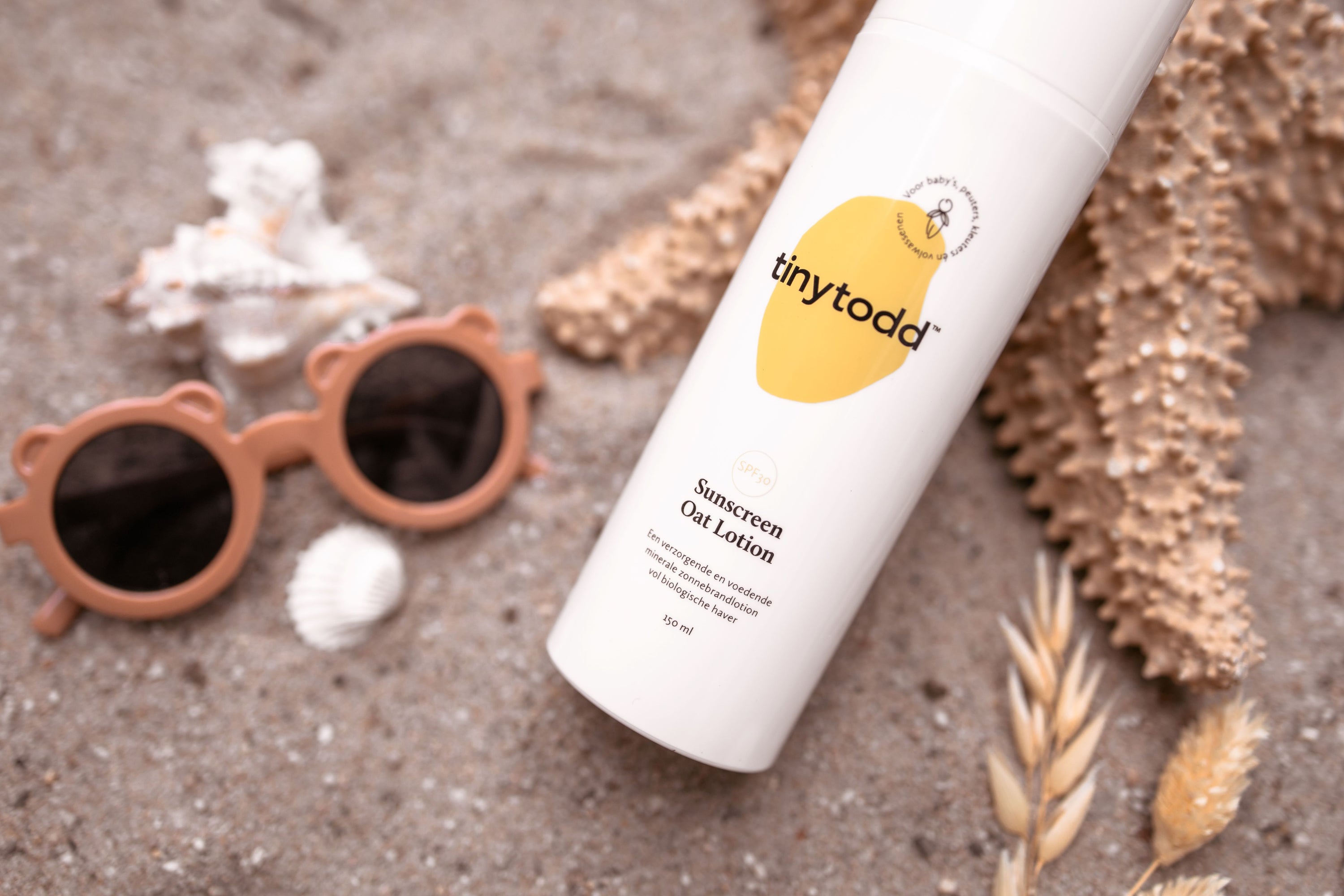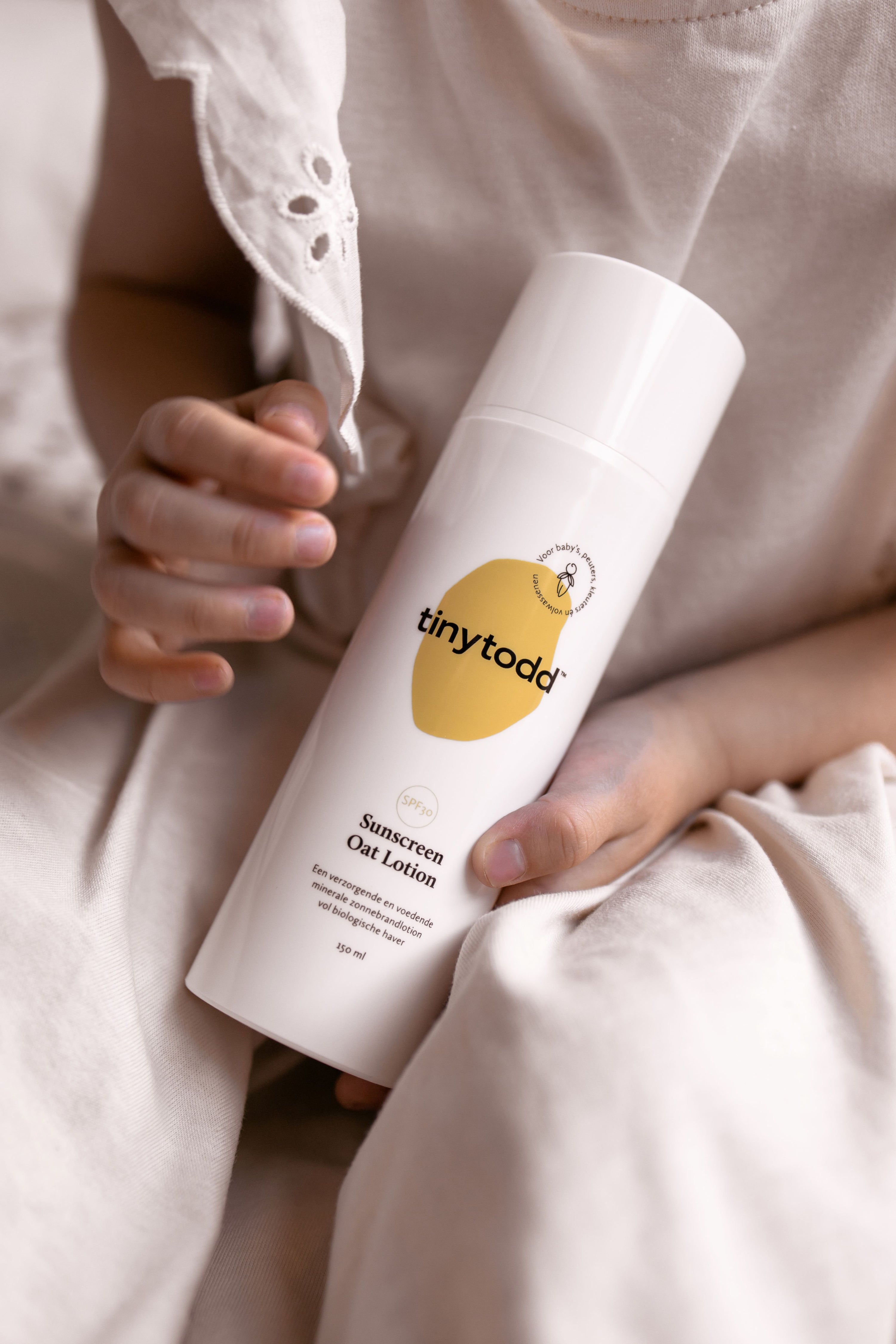 Your skin's best friend.
Full of oats, free of junk.

🌾No white cast. And water-resistant.
🌾 Vegan, so only plant-based ingredients.
🌾 Titanium oxide, perfume or palm oil? No. Not with us.
🌾 With a sunscreen made of non-nano-zinc: good for your skin, kind to nature.
🌾 In an airless pump bottle made from recycled materials, this preserves the cream up to 30 months without any chemical additives.

A word about those five branches.

You know what we know: personal care products often carry the biggest nonsense. For example, "natural" is a term you see on everything these days. Are most of those products natural? No. But ours are. Also, we don't want you to use "lots and lots" of them. You don't have to, because the most sustainable solution is always to be economical with what you use.

Because it really is and because parents say so.

You just want to free your baby, toddler or preschooler of their eczema and so you want a product that works and contains only healthy ingredients. Tiny Todd is that product. Not because our packaging screams it, but because it really is - and because parents say so.